Argents is proud of our partnership with Logixboard, a partnership that allows us to view real-time shipment data with our clients and internal team in a user-friendly interface. This centralized hub helps us empower our customers to build a healthy, stable, and reliable supply chain.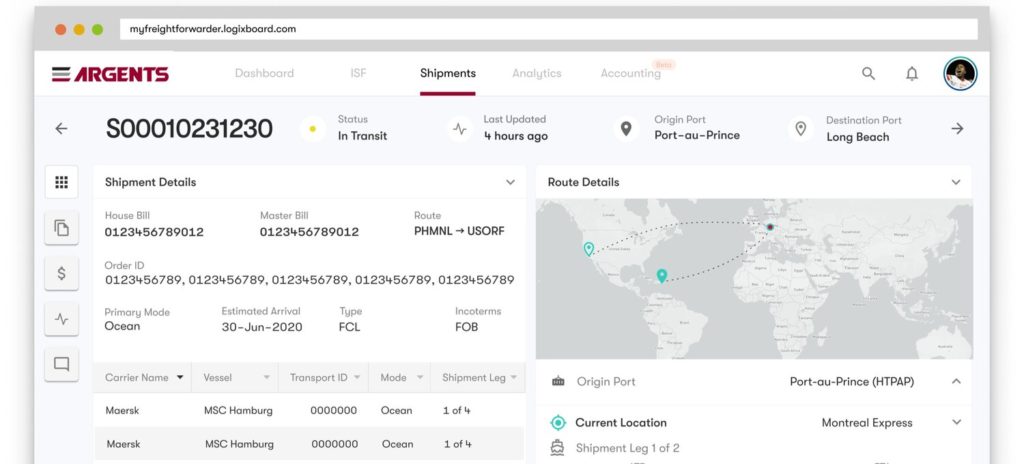 The digital platform ensures your information stays up-to-date with real-time alerts and shares tracking links with all specified users.
Logixboard gives us a place to have a centralized messaging system, share documentation, and keep up with accounting and analytics so that we can stay on top of everything in the logistics field and keep you up to date with what is happening as well.
The centralized messaging system takes us out of the email-centric message loop and into one that can share updates within a specific shipment, answer questions, and keep a log of communication that can be viewed by both organizations' people.
The document sharing is a fantastic tool that will allow us to upload and download documents to save time, reduce confusion, and make sure no deadline is missed due to missing critical documents in the email abyss with which we are all so familiar.
We can automate reporting analytics in an interface to give our clients 24/7 access to the data they need. No more manual reports, CSV exports, and waiting for quarterly updates. This new program gives us the power to supply critical data any time, anywhere.
Clients will have a centralized dashboard from which to work so they can quickly access the most important high-level information regarding their shipment. They will also be able to view upcoming and active shipments, understand recent activity, see upcoming invoices, and keep a close eye on the most important shipments. With our shipment explorer you get access to the status of all your shipments, past and present, as well as their details – support for an audit, or assistance in a reverse logistics situation. Critical information such as 'smooth sailing' or even potential speed bumps can be understood at a glance. You'll be able to provide updates with a point and a click ease that technology now has to offer us.
Argents is happy to have Logixboard integrated into our system
As a privately-held American logistics provider, we strive to be the leaders in the industry of e-commerce fulfillment, freight forwarders, and the preeminent company of choice for nascent entrepreneurs looking to bring ideas to the market from crowdfunding platforms worldwide.
With this partnership, we are breaking ground and bringing peace of mind to our customers in every facet of logistics who know that operating with us will be less of a hassle than ever before. We want to simplify our client's lives when it comes to intermodal and cross-border freight forwarding and customs clearance services. Whether you are an established freight forwarder with business in every corner of the world or a new e-commerce seller who wants to grow your business across platforms with real-time data, Argents can help. If you have any questions, please give your Argents representative a call today and we can help you navigate the system.